Welcome to The Yasme Foundation website!
Yasme is a storied word in amateur radio DX circles. DX stands for "distance" and the sailboats for which Yasme is named certainly covered their share of DX, crossing the oceans and dropping anchor at exotic islands some six decades ago. In turn, amateurs around the world, the "DX-ers," would then try to contact the Yasme captain, Danny Weil, VP2VB, an amateur operator of renown.
Over the years, The Yasme Foundation has grown from a support group for those original Yasme adventures into a worldwide foundation supporting projects that help amateur radio flourish. We recognize the volunteers who keep amateur radio vital and vigorous in its second century and sponsor awards for hams (amateur radio operators) who make long-distance DX contacts on the air. This updated website tells our story and explains our mission. We hope you enjoy your visit and, even more, hope to meet you on the air!
73, Ward Silver, NØAX
President, The Yasme Foundation
1 August 2016
The Yasme Foundation is a 501(c)(3) not-for-profit corporation organized to support scientific and educational projects related to amateur radio, including DXing (long distance communication) and the introduction and promotion of amateur radio in developing countries. Yasme supports various projects relating to amateur radio, with an emphasis on developing amateur radio in emerging countries and encouraging youth participation in amateur radio.
---
James Brooks, 9V1YC – New Director – 5 February 2019
The Board of Directors of The Yasme Foundation is pleased to announce that it has elected James Brooks, 9V1YC, as the newest Yasme Foundation Director.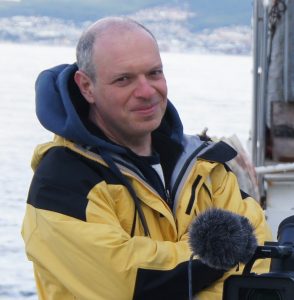 James was first licensed in the United States in September 1978 but has been active for the last 30 years as 9V1YC in Singapore. A BSEE graduate of the University of Texas at Austin, James owns a television post-production company based in Singapore that produces for networks such as Discovery, National Geographic, and HBO Asia. He's been a competitor at WRTC and led several DXpeditions to remote areas of the world, some of which are documented in a series of videos he's been making since 1997. James is on the council of the Singapore Amateur Radio Transmitting Society, a co-founder of the Asia-Pacific Sprint, and a member of the CQ DX Hall of Fame.
---
Marty Woll N6VI – New Director – August 21, 2018
We are very pleased to announce that Marty Woll, N6VI is the newest Yasme Foundation Director.  Marty brings a wealth of experience in ham radio, including serving as Vice Director for the ARRL's Southwestern Division for a number of years.  Congratulations, Marty and thank you for supporting Yasme!  More information about Marty will be released at a later date.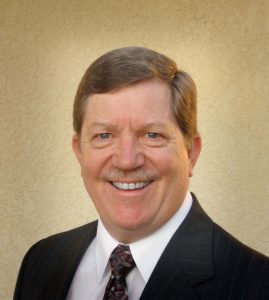 ---
Kip Edwards W6SZN – Silent Key – 6 June 2018
We are profoundly sad to note that our friend and colleague, Kip, died today.   Kip was a Yasme Director for many years and served as Yasme Secretary.  To many, he was the face of Yasme through correspondence and personal interactions.  He will be sorely missed.   73, Kip…from your many friends.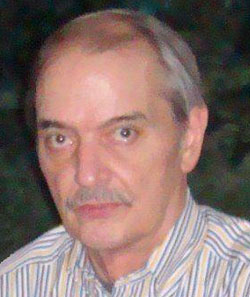 Born in Wichita, Kansas in 1947, Kip was first licensed as KNØPID at the age of 11. Along with his older brother Craig, KNØPHC, they built a 40 meter transmitter and a Heathtkit AR-3, strung up a longwire and were on the air. The family moved to Washington state and Kip became KN7GGC and later K7GGC. Golf, girls and college soon replaced amateur radio.
Newly married in 1968, Kip and his wife moved to Berkeley where he graduated from the University of California at Berkeley School of Law (Boalt Hall) in 1971. After a stint as a Teaching Fellow at Stanford Law School, Kip joined a major law firm in San Francisco as an associate in 1972 and became a partner in 1978.
Ham Radio Outlet had its main store at the time next to the railroad tracks in Burlingame, California. Intrigued by the big antennas on the roof of the building as he rode the commute train to and from work, Kip visited the store and came away with a Kenwood receiver. It was 1976 and everyone was signing what sounded like exotic DX calls but which were really only stateside stations. In short order, Kip passed the Amateur Extra exam and became W6SZN.
The contesting and DXing bugs bit soon, and hard. Kip was a member of the Northern California Contest Club and served as President and editor of The JUG, the club's newsletter. He was honored as Contester of the Year in 1982. He was also a member of the Northern California DX Club and served as that club's President and received the club's DXer of the Year award in 1988. Kip was on the DXCC Honor Roll and held 9BDXCC and 5BWAS.
DXpeditions include 3D2XX Rotuma (first to activate the new country in 1988-awarded World Contest Expedition by CQ Magazine), F0XX Clipperton (1986), FO0KP (1981), VP5KP (1982—10th in the world CQWW S/O SSB), TI1C (1983—First in the world CQWW M/M SSB), G4/W6SZN (1983), FM/W6SZN (1984-8th in the world CQWW S/O CW) and P40V (1987).
Kip was formerly a Director of NCDXF in the 1980s and served as Editor of the NCDXF Newsletter and the WWDXC Totem Tabloid.  He was a Director and Secretary of The Yasme Foundation, Life Member of the ARRL, Life Member of CW Ops, the Maxim Society of the ARRL, and a member of the Northern California Contest Club, the Northern California DX Club, the Western Washington DX Club, and a founding member of the Kitsap County DX Club.
---
YOTA 2018 – South Africa – August 2018
This year's Youngsters On The Air Summer Camp will be held in Gauteng, South Africa from 8-15 August 2018. (This is actually midwinter in South Africa!)  Yasme is supporting YOTA 2018 with a grant in support of travel expenses for participants in Africa and developing countries, as well as providing some equipment for an HF station.  You can read more about the event in this ARRL News story.
YOTA representatives, Florian Zwingl OE3FTA and Koos Fick ZR6KF traveled to the recent Dayton Hamvention (May 18-20) with Yasme assistance to promote YOTA and the YOTA 2018 Summer Camp.  They met a number of Region 2 representatives, including IARU President, Tim Ellan VE6SH, and numerous hams who learned about YOTA and getting some YOTA activity going in Region 2.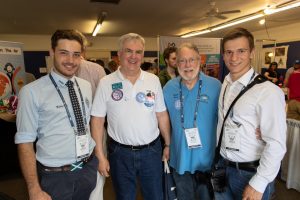 (Left to right: ZR6KF, Frank Donovan W3LPL, NØAX, OE3FTA)
---
Ham Radio 2.0 and HamSCI
At the May 2018 Dayton Hamvention, Yasme sponsored an area called "Ham Radio 2.0 – Innovation and Discovery" along with an adjacent booth for the HamSCI team.  The area was part of an experimental "2.0 Row" area in the Volta Building supported by the Hamvention that also included the Youth Tech area where younger attendees assembled electronic kits and the FIRST Robotics organization was represented by a robotics team.  The goal was to promote forward-leaning activities and topics along with publicizing the HamSCI successes in sponsoring the Solar Eclipse QSO Party (SEQP) and initiating a series of peer-reviewed papers about the historic collaboration between amateurs and researchers as summed up in this story about the SEQP from the Gizmodo publishing service.  Talks from both groups were presented on Friday and Saturday covering everything from satellites to summits to solar science and high-altitude ballooning – even cool QSLs!
| | |
| --- | --- |
| Broadband Digital Satellite Systems | Michelle Thompson, W5NYV |
| Ray Tracing & the SEQP | Josh Vega, WB2JSV |
| SatNOGS Automated Stns | Pierros Papadeas, SV1QVE |
| Internet Telegraph | Scotty Cowling, WA2DFI |
| NPOTA – First Steps | Laura Steinberger, WZ8C |
| The FT8 Advantage | Carl Luetzelschwab, K9LA |
| AMSAT – Fox & Golf Satellites | Jerry Buxton, NØJY |
| Cool QSLs | Jeff Murray, K1NSS |
| | |
| | |
| SOTA | Keith Schlottman, KR7RK |
| WSJT Modes | Ria Jairam, N2RJ & Dave Fisher NX6D |
| ARDF with LIDAR data | Matt Robbins, AA9YH |
| SuperDARN Eclipse Results | Magda Moses, KM4EGE |
| ARHAB Balloon Data | Bill Brown, WB8ELK |
| DX Display and HARC Dbase | Bill Engelke, AB4EJ |
| Real-time Contest Scoreboards | Victor Androsov, VA2WA |
| Software Defined Ionospheric Radar | Bob McGwier, N4HY |
(All talks are being published on the HamSCI website.)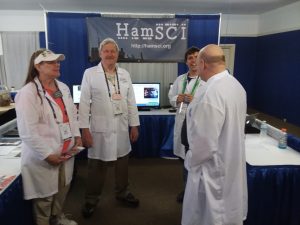 The HamSCI booth reps in their lab coats – left to right – Vicky Luetzelschwab AE9YL, Carl Luetzelschwab K9LA, Nathaniel Frissell W2NAF, and Bob McGwier N4HY.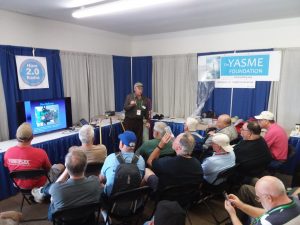 Bill Brown WB8ELK gave a standing-room-only talk about launching high-altitude balloons and using amateur radio to transmit the telemetry stream.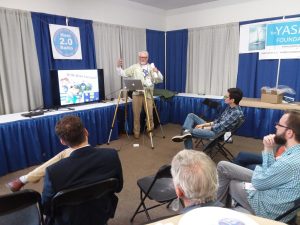 Jeff Murray, K1NSS designs custom QSLs and amateur radio artwork – he gave a talk on the history of art in ham radio and how QSLs are developed.
---
Sponsored and organized by Tim Duffy, K3LR with the support of Icom America and the World Wide Radio Operator's Foundation (WWROF), Yasme also made a grant in support of this all-day series of seminars about contest operating and technical topics associated with competitive amateur radio, such as receive antennas, station design, and grounding and bonding.  CTU was attended by more than 200 amateurs of all ages from around the world.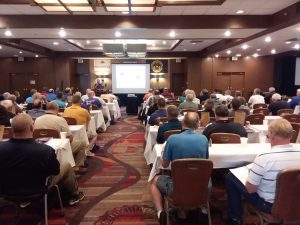 About one-third of the total audience at CTU with K3LR as the day began.  Presentations, including recorded video, will be available via the CTU website.
---
Hamvention and DARA
In 2017, the Dayton Amateur Radio Association successfully moved the entire Hamvention from Hara Arena to the Greene County Fairgrounds within just a few months time, keeping the event alive and thriving.  Yasme recognized this feat with an Excellence Award and NØAX was on-hand this year to give the award to DARA at the Hamvention.  DARA also prides itself on supporting organizations from Hamvention proceeds and Yasme was pleased and surprised to be the recipient of a $1000 donation from DARA – thank you!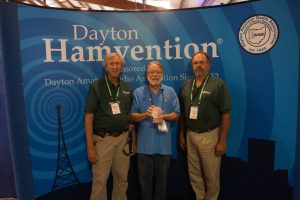 Ron Cramer KD8ENJ, Hamvention General Chairman and Jeff DeVoe K8JTD, DARA Senior Trustee receiving the Yasme Excellence Award from NØAX.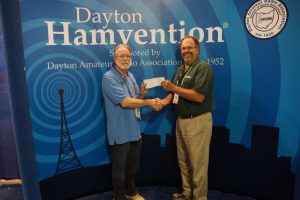 Jeff DeVoe K8JTD presenting the Yasme Foundation's NØAX with the donation check.
---
Yasme's history includes a number of famous calls, none quite so legendary as those of Danny Weil, VP2VB; Lloyd Colvin, W6KG; and Iris Colvin, W6QL.  We were fortunate to receive a collection of vintage Yasme QSLs from Bob Davies, K7BHM, including a few pictured below.  Dick Spenceley, KV4AA was instrumental to the foundation in its early days and a member of CQ's DX Hall of Fame, as well.  All wonderful cards from a wonderful time in DXing and amateur radio.
One more QSL includes three famous calls: Danny Weil's, Yasme's QSL Manager – Dick Spenceley's, and E.R. "Robby" Robson, VQ4ERR who lived in Kenya Colony from after WWII until 1963 when Kenya gained its independence and the 5Z call sign prefix.  As you can see, Danny was interested in working DX, too – his query was about the possibility of an operation from VQ9, Aldabra, just northwest of Madagascar and now part of the Seychelles, S7.  Danny was just about to leave for Trinidad – then VP4 and now 9Y.