Welcome to The Yasme Foundation website!
Yasme is a storied word in amateur radio DX circles. DX stands for "distance" and the sailboats for which Yasme is named certainly covered their share of DX, crossing the oceans and dropping anchor at exotic islands some six decades ago. In turn, amateurs around the world, the "DX-ers," would then try to contact the Yasme captain, Danny Weil, VP2VB, an amateur operator of reknown.
Over the years, The Yasme Foundation has grown from a support group for those original Yasme adventures into a worldwide foundation supporting projects that help amateur radio flourish. We recognize the volunteers who keep amateur radio vital and vigorous in its second century and sponsor awards for hams (amateur radio operators) who make long-distance DX contacts on the air. This updated website tells our story and explains our mission. We hope you enjoy your visit and, even more, hope to meet you on the air!
73, Ward Silver, NØAX
President, The Yasme Foundation
1 August 2016
Santa Claus is Back – Listen for OF9X!
The busy yuletide season is soon upon us, and Santa is preparing his sleigh for another world tour. The old man is very busy, but fortunately the elves are there to help him deliver the Christmas spirit to the world's children. The Ou-Hou (OH) people are also bringing Santa to the ham community as in many past years, utilizing some high tech to assist him. With the help of multimedia and the Internet, a dozen or so elves will operate Santa Radio, OF9X, with their own identity.  Yasme's own OH2BH will be participating – perhaps in full Santa costume as seen here?
FLASH!! DEC 1st – OF9X is ON THE AIR!!  See the OF9X QRZ.com web page for operating information, a list of all twelve (12!) of Santa's hardworking elves, and the awards that are available!!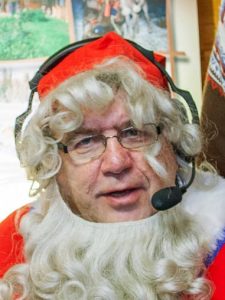 As a reward for contacting several of them, your brave children, grandchildren, or neighbors' children may even speak with Santa himself. Amateur Radio's future resides in our youth, and Santa can be their first contact with the art. This year's activity will also pay respect to the ARRL's late President Emeritus, Jim Hayne, W5JBP, who became a SK at the time the Santa script was in making. We wish to carry on the spirit of his mission – the Big Project – in this format.
The certified reindeer driver and Laplander Pertti "Pete" Koivula, OH2BEE/OH9U, will give Santa a face and voice, tapping into his professional background as a famous actor of the Helsinki City Theatre. Pete is well known from his role in the Finnish national movie "The Unknown Soldier," exploring those difficult bygone times of war, still remembered by seasoned Finns.
The patron of the OF9X Santa Activity is Mr. Juha Sipilä, the Prime Minister of the Republic of Finland. Mr. Sipilä indicates his sincere support of Finland being the home of Santa and states that "using the latest technology to promote Santa is valuable support for Finland and helps make this Christmas a special one." He further expresses his pleasure of "welcoming an increasing number of visitors, such as those from America and China, who come to explore the treasures of Finnish Lapland by flying directly to Santa Claus Airport at the Arctic Circle." The conclusion of Santa activity this year will mark the beginning of Finland's Anniversary as a 100-year-old sovereign and independent nation.
The OF9X (Old-Father-9-Christmas) activity is supported by the Finnish Telecommunications Regulatory Authority (FICORA) and the Finnish Amateur Radio Association (SRAL), and is organized by Radio Club of Pusula, OH9W with Radio Arcala, OH8X of Oulu, the frozen North.
---
The Yasme Foundation is a 501(c)(3) not-for-profit corporation organized to support scientific and educational projects related to amateur radio, including DXing (long distance communication) and the introduction and promotion of amateur radio in developing countries. Yasme supports various projects relating to amateur radio, with an emphasis on developing amateur radio in emerging countries and encouraging youth participation in amateur radio.