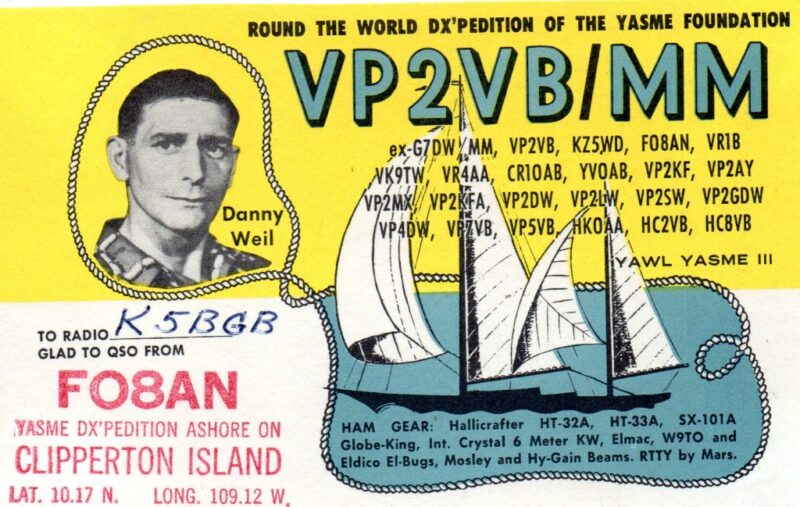 Danny Weil
A Dreamer of Distant Lands Who Took
Amateur Radio on the Trip of a Lifetime
By Martti Laine, OH2BH, AH3D, VP2VB (re-issued)
References to "Yasme book/K1TN" are to Yasme – The Danny Weil and Colvin Radio Expeditions, written by James D. Cain, K1TN,  published in 2003 by the American Radio Relay League, now out of print. Available as .pdf, below
CONTENTS
So let the story begin…
Danny Weil: DXer & Dreamer
Danny Weil (*14.01.1918, London – †03.10.2003, San Antonio, TX) was born in a London suburb, a descendant of many generations of watchmakers, so he apprenticed in the trade of watchmaking. Later he earned a degree in Mechanical Engineering and Navigation. His father, Jack Weil, was killed during World War II in the London Blitz. Danny joined the Royal Air Force at the age of 17 and in the 10 years he served, was stationed in Ceylon, India, Norway and Stalingrad. After returning to London, Danny took over the family shop, but found little satisfaction in selling and repairing watches and clocks.
In 1947, by mere chance, Danny came across the book Kon-Tiki, written by the Norwegian Thor Heyerdahl who had traveled across the Pacific Ocean from South America to the Tuamotu Islands of Tahiti with his balsa wood raft named "Kon-Tiki". Danny was truly inspired by the book, but lacked the money to buy a boat of his own. Still following his forebears into the trade of watchmaking, he could not help nurturing a dream of solo-circumnavigating the globe. Luck struck again: Danny found the wreck of a sunken yacht. He recovered the 40-foot sailboat and spent many hours, weeks and months making it seaworthy again.
When the work was finished in August, 1954, Danny left England on his sailboat "Yasme" (the name is derived from the Japanese word yasume, meaning freedom), in order to travel the world alone. Needing a means of communication, he taught himself Morse code and radio theory before sailing out and "helped himself" to the call sign G7DW without obtaining a radio license. He carried on board an old British WWII tank transmitter and a war-surplus BC-348 receiver. His signal was well heard along the way, but only a few got an answer from G7DW/MM. In just 3 weeks, he successfully crossed the Atlantic and arrived in Antigua, British West Indies (BWI). In nearby St. Thomas of the US Virgin Islands, he looked up some hams for help with his problematic radio equipment and was fortunate to befriend Dick Spenceley, KV4AA. Dick was to become an integral part of the Yasme Foundation story as both Dick and Danny were dreamers in their own interests.
As described in the following collection of histories, the Yasme Foundation was established in 1959 in Tampa, Florida around the further activities of Danny Weil. By then the Foundation's purpose was already set wider, but only in more recent years was it modernized to represent the world of today. The founding officers were; President, Richard Spenceley, KV4AA, Vice President & Treasurer: Edward Stanley, W4QDZ, Directors; Charles Biddle, W6GN, Golden Fuller, W8EWS, William Halligan, W9AC, J.E Joyner, W4TO, James Symington, K4KCV and Danny Weil, VP2VB, all Silent Keys today. The foundation's charter was approved in the Circuit Court of Hillsborough County, Florida on July 31, 1959.
The original purpose of the Yasme Foundation was: "Yasme contributes to the advancement of amateur radio and as a scientific and educational medium, to assist those handicapped hams in need of the therapy and pleasure which ham radio can give as else can't, to create international good will, to conduct scientific explorations in the fields of oceanography and hydrography, and to share its findings with every one regardless of race, creed or color."
The wording may sound odd for some, but one should realize that, for example, that first jet airplanes were only starting to be commercialized at that time.
READ ON >
Learning amateur radio and becoming a country-hopping DXpeditioner