Acknowledgements and Special Thanks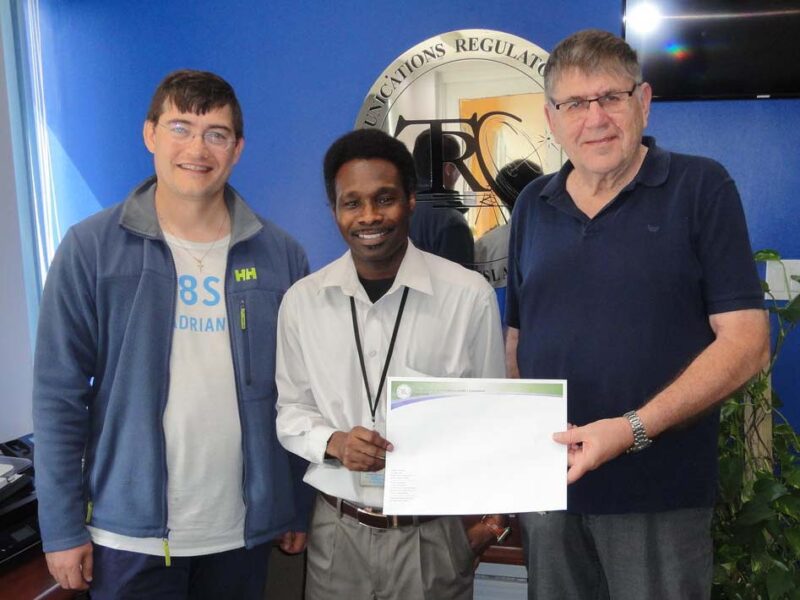 (Right) The author, Martti Laine, OH2BH; (Middle) British Virgin Island, Telecommunication Regulatory Commission (TRC), Spectrum Management Officer, Mr Darren Woodley, who re-issued Danny Weil's original VP2VB call sign for us; and (Left) my always smiling partner, Adrian Ciuperca, KO8SCA. Read more about the VP2VB Memorial Expedition at  www.qrz.com/db/VP2VB

Acknowledgements
Completing the short-form recap of Danny Weil, VP2VB DXpeditions was only possible by closely following two narratives: The first is of the book Yasme – The Danny Weil and Colvin Radio Expeditions, written by James D. Cain, K1TN. The second is from CQ Magazine issues of that time frame, provided by CQ Communications Inc. and Richard Moseson, W2VU. Material was also obtained by digging into the very rich archives of the Yasme Foundation, as well as the Documentary Archives of Radio Communication, DOKUFUNK of Austria, maintained by Ms. Paulina Petri, OE1YPP, and Professor Wolf Harranth, OE1WHC.
I am equally grateful to Joseph H. Reisert, Jr., W1JR (ex-W2HQL), who provided first-hand accounts and many insights into Danny Weil's colorful character and his DX life, details that Joe learned while joining Danny in one of his DXpeditions and following Danny through radio to all his radio destinations.
I was also pleased to have the assistance of Donald A Karvonen, K8MFO, who provided details about Danny's radio operating practices, details that were a vital part of the DXpedition success but were only lightly covered in Danny's own travelogues.
Additionally we would like to thank Rod Hotz, K5BGB, for spending endless hours and digging into his QSL files to find the last few QSLs from the Danny's thirty operations. The one was treasured particularly: FO8AN, Clipperton, as only some 500 QSOs were ever made.
Special Thanks
When I had finished my manuscript it had a sad ending- Too many things had gone wrong and the DXpedition was terminated. Danny sailed home for 100 days to leave behind his dream lands and oceans. After all, his home was on Yasme and his dreams and heart were at sea.
My partner for the VP2VB Memorial DXpedition, Adrian, KO8SCA (see photo), was not happy about the sad ending. Every DX ending must be happy. If we fail we should try again. Or if we would not try, someone else will. "We have to always remember that whatever we want to do, we have to do it now. There are only so many tomorrows," he wrote in the VP2VB QSL card.
It was a very smart statement from a young man. So the last paragraph is Adrian's and it is delightful for us all. It also made a happy ending to the story of Danny Weil.

RETURN TO > FIRST PAGE