Yasme Excellence Award
In 2008, the Board of Directors of The Yasme Foundation announced the establishment of the Yasme Excellence Awards
The Yasme Excellence Awards are presented to individuals who through their own service, creativity, effort and dedication have made a significant contribution to amateur radio. The contribution may be in recognition of technical, operating or organizational achievement as all three are necessary for amateur radio to grow and prosper. These awards shall be given from time to time as the board feels appropriate.
The awards are categorized roughly in accord with FCC (USA) "Basis and Purpose" for amateur radio as consistent with the foundation's purposes and expertise. Those areas of amateur service include noncommercial communications service, advancement of the technical and operating arts, technical training and international goodwill.
There is no application for Yasme Excellence Awards, but suggestions regarding deserving individuals will be considered. Each prize consists of a plaque and a monetary award. The most recent annual awards totaled $8,000 USD.
Suggestions of worthy recipients may be sent to:
The Yasme Foundation, P. O. Box 20578, Castro Valley, CA 94546
Yasme Excellence Award Recipients
Inception to 2020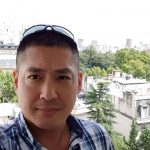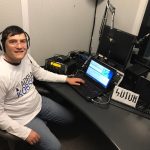 James Sarté, K2QI and Adrian Ciuperca, KO8SCA – for their efforts in combining the latest state of the art technology, diplomatic skills, persistence, and leadership.
Additional help with gathering equipment and logistical support was provided by RA9USU, NT2Y, NT2X, K2LE, and N2UN (SK) culminating in reactivation of the United Nations Club Station 4U1UN.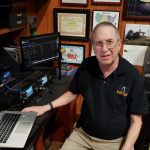 Joe Eisenberg, K0NEB – for his contributions to amateur radio through his kit-building seminars, as seen at the Dayton Hamvention and other ham gatherings.  He is also editor of the Kit-Building column for CQ magazine.  Joe exemplifies the "give back" and "self-teaching" spirit of ham radio, especially in training youngsters.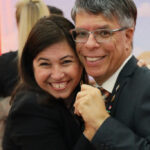 Brett and Helena Ruiz, PJ2BR and PJ2ZZ
– Brett and Helena have been active leaders of VERONA for more than twenty years, including technical activities, disaster preparedness and relief, as well as training potential licensees. They act as liaisons to government and international organizations, as well as contributing to important events such as GAREC and IARU assemblies and meetings. Brett is also active in pursuing long-distance VHF propagation and digital communications.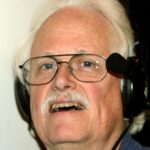 Jim Brown K9YC – Amateurs worldwide have benefited from his extensive contributions to amateur radio regarding ferrite materials and their use in combating RF interference, feed line applications, and transformers. His efforts to improve transmitter performance and operating practices are also greatly appreciated, as are the extensive set of personal publications available to the public and performing reviews of technical material for amateur radio publishers.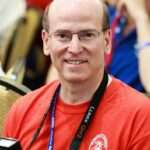 Bob Wilson N6TV – Yasme recognizes Bob's technical support to literally hundreds of hams through various radio manufacturer's user groups, to logging software communities, and the detailed assistance he provides to Reverse Beacon Network hosts, keeping their equipment configured and running. Bob also provides invaluable support to traveling hams worldwide when they most need help. Along with being technically talented he is exceptionally selfless in using that talent to help others, quick to encourage others in many areas.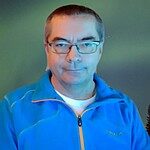 Jari Perkiömäki OH6BG – Jari has supported the online VOACAP software and website www.voacap.com for almost 20 years, without compensation, making world-class HF propagation prediction and modeling services available to any radio amateur. He believes in team work, acknowledging the contributions and ideas from all of the ham community for further development of the service, but especially from James Watson M0DNS/HZ1JW and Juho Juopperi OH8GLV. He estimates that today VOACAP Online serves thousands of users, with visits from more than 100 countries every month, including integration with the DX Summit and Club Log services. He is part of the Radio Arcala, OH8X team and acts as a propagation specialist, assisting the WRTC community, RSGB and others.