Yasme Excellence Award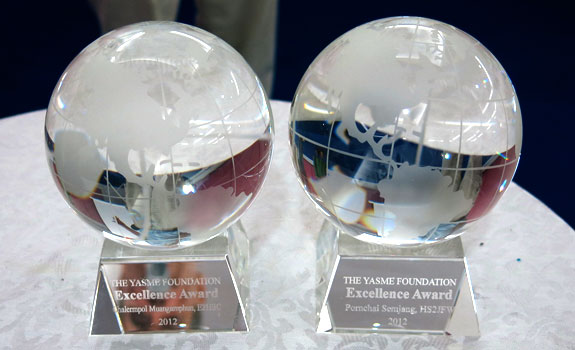 In 2008, the Board of Directors of The Yasme Foundation announced the establishment of the Yasme Excellence Awards
The Yasme Excellence Awards are presented to individuals who through their own service, creativity, effort and dedication have made a significant contribution to amateur radio. The contribution may be in recognition of technical, operating or organizational achievement as all three are necessary for amateur radio to grow and prosper. These awards shall be given from time to time as the board feels appropriate.
The awards are categorized roughly in accord with FCC (USA) "Basis and Purpose" for amateur radio as consistent with the foundation's purposes and expertise. Those areas of amateur service include noncommercial communications service, advancement of the technical and operating arts, technical training and international goodwill.
There is no application for Yasme Excellence Awards, but suggestions regarding deserving individuals will be considered. Each prize consists of a plaque and a monetary award. The most recent annual awards totaled $8,000 USD.
Suggestions of worthy recipients may be sent to:
The Yasme Foundation, P. O. Box 20578, Castro Valley, CA 94546
Yasme Excellence Award Recipients
Inception to 2016