Welcome to The Yasme Foundation website!
Yasme is a storied word in amateur radio DX circles. DX stands for "distance" and the sailboats for which Yasme is named certainly covered their share of DX, crossing the oceans and dropping anchor at exotic islands some six decades ago. In turn, amateurs around the world, the "DX-ers," would then try to contact the Yasme captain, Danny Weil, VP2VB, an amateur operator of renown.
Over the years, The Yasme Foundation has grown from a support group for those original Yasme adventures into a worldwide foundation supporting projects that help amateur radio flourish. We recognize the volunteers who keep amateur radio vital and vigorous in its second century and sponsor awards for hams (amateur radio operators) who make long-distance DX contacts on the air. This updated website tells our story and explains our mission. We hope you enjoy your visit and, even more, hope to meet you on the air!
73, Ward Silver, NØAX
President, The Yasme Foundation
26 September 2021
The Yasme Foundation is a 501(c)(3) not-for-profit corporation organized to support scientific and educational projects related to amateur radio, including DXing (long distance communication) and the introduction and promotion of amateur radio in developing countries. Yasme supports various projects relating to amateur radio, with an emphasis on developing amateur radio in emerging countries and encouraging youth participation in amateur radio.
---
Yasme Foundation – Yesterday, Today, and Tomorrow
A video presentation given on 21 Oct 2021 to the Nashoba Valley Amateur Radio Club (N1NC) by Yasme Foundation President, Ward Silver NØAX was recorded and made available on YouTube.   The program is 35 minutes long, following a 4-minute introduction by W1PJE and K1BG.  Yasme wishes to thank the club for recording and editing the video for others to enjoy.
---
Reverse Beacon Network – Coverage Expansion
In 2020, we received a very generous grant from the Amateur Radio Digital Communications (ARDC) in support of projects too large for us to take on by ourselves.  In partnership with the HamSCI research community, it was determined that coverage of the Reverse Beacon Network's (RBN) automated receivers could be expanded to provide data from under-represented regions.  Doing so would increase the value of data collected by the RBN to geophysics and spaceweather research.  This is one of amateur radio's oldest traditions and services – supporting scientific research.
Using the funds from the ARDC as well as Yasme's own funds, equipment for 15 new "nodes" was purchased and hosts were located in desirable areas.  As of September 2021, many of these nodes are actively generating "spots."  They are located in the South Pacific (5W and 3D2), the Caribbean (KP4 and KP2), northern Finland (OH), and several in Central and Asiatic Russia (UA1, UA9, and UA0).  An additional node is planned for Tajikistan (EY).  We greatly appreciate the assistance not only of ARDC but of vendors such as DX Engineering and Red Pitaya, and the incredibly helpful Bob Wilson, N6TV, who assists in configuration and troubleshooting.  Thank you all!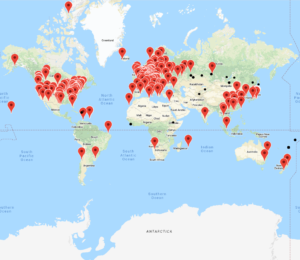 ---
YOTA: Youngsters On The Air
The 2018 Youngsters On The Air Summer Camp was held in Gauteng, South Africa.  Yasme supported YOTA 2018 with a grant in support of travel expenses for participants in Africa and developing countries, as well as providing some equipment for an HF station.  You can read more about the event in this ARRL News story.
The YOTA 2019 Summer Camp was held in Bankya, Bulgaria and Yasme again provided a supporting grant to help with facilities, travel, and materials.  Sponsored by the Bulgarian Federation of Amateur Radio, the camp was attended by 80 participants representing 27 countries.